Evaluations and Screenings
Assessments for Children
Did you know that your child can be screened or evaluated by your local public school at no cost to you?
Ask us how to request a screening/evaluation through your public school district, even if your child is home-schooled or attends a private school.
Screenings Available

The purpose of a screening is to determine whether there is enough concern in a given area to warrant a full evaluation. If your child is under the age of 5, we'll invite you to bring him/her to the visit with you so that we can observe your child's play skills while we discuss your concerns.
Autism Spectrum Disorder – any age
Developmental screening – age 2 1/2 – 5
ADHD – any age
Evaluations Available

Autism Spectrum Disorder
ADHD
Depression
Anxiety
Emotional/Behavioral disorders
Learning Disability (i.e., reading, writing, math)
Dyslexia
Developmental delay
Intellectual Disability
Cognitive testing for gifted/GT
Independent Educational Evaluations (IEE)
What does an evaluation include?
The length of an evaluation varies depending on the type of testing requested and the age of the child. Each evaluation includes a parent interview (developmental history, review of concerns, review of educational performance and history, etc), formal/direct assessment with the child, scoring and interpretation of testing, report preparation time, and a comprehensive report of results including extensive, individualized recommendations and interventions suggested.
How do I schedule an evaluation?
The first step in scheduling an evaluation is to come in for a consultation with our psychologist. In this visit, we'll review your concerns and decide on an evaluation plan to address suspected areas of need. We are unable to provide a quote for evaluation without first meeting with you for a consultation.
How soon can my child be evaluated?
The length of time between an initial consultation and the evaluation session(s) varies depending on the time of year, but is currently no more than 6-8 weeks.
Click here for additional information about assessment for autism spectrum disorder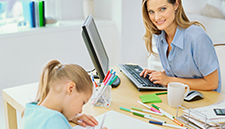 Do you have more questions? Visit our FAQ page